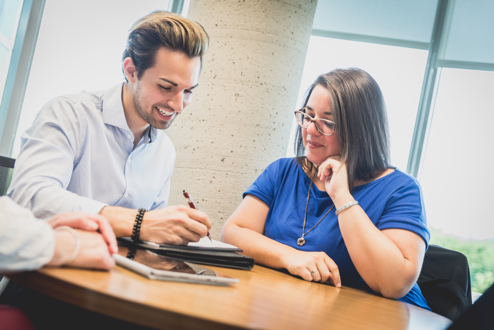 With Quebec's unemployment rate near a 45-year low and the economy growing at a fast pace, the pool of workers available to fill jobs is shrinking. That's a major obstacle for businesses operating here. Attracting and retaining talent has become a challenge that can negatively impact operations.
To meet that challenge head on, businesses need to adapt and even innovate when it comes to total compensation. It's no longer enough to mention in the job posting that the salary is competitive. You can't sit back and rely on one or two aspects of your total compensation package. Now you have to think outside the box!
This conference will review the basic concepts of compensation, including direct compensation, employee benefits, career management and work environment management.
Our speakers:
Fédérick Blanchette, Partner, Solertia Consulting Group
Maxime Lacroix, Founding Partner, Amélio
Mélanie Foley, Senior RH Consultant, Solertia Consulting Group
Miguel Yargeau, Partner, Brassard Goulet Yargeau
DATE
Quebec (in French)
May 14, 2019 from 7 AM to 10:30 AM
Montreal (in French)
May 16, 2019 from 7 AM to 10:30 AM
Montreal (in English)
May 22, 2019 from 7 AM to 10:30 AM
*Free subscription